The 14th edition of
Liège-Bastogne-Liège
was raced on this day in
1924
, when it was won for a second consecutive time by René Vermandel. He became World Road Race Champion as well that year, having previously held the title in 1922.
In this day in 2008,
Nicole Cooke
won the Women's Road Race at the Olympic Games - the first Welsh rider to have ever done so. It was Great Britain's 200th gold medal since the modern Games began. Later that year, Cooke became the first woman to win the Olympic gold medal and the World Championships in the same year (she'd won the National Championships earlier in the year, too).
John-Lee Augustyn
John-Lee Augustyn, born in Kimberley, South Africa on this day in 1986, turned professional with Konica-Minolta in 2005and very rapidly established himself as a climber of considerable note, winning a domestic hill climb competition in his first year and the Mount Fuji stage of the Tour of Japan in his second. In 2007, he joined the British Barloworld team and went to the Tour de France with them in 2008 - during Stage 16, he was the first man to the top of the 2,715m Col de la Bonette, the highest
paved
true col in Europe. Like many climbers, Augustyn found it difficult to control his bike on steep descents due to his lightly-built physique: soon after the summit, he was unable to turn quickly enough into a bend, overshot it and plunged more than 30m down a scree-covered slope. He suffered only minor injuries and was able to continue, eventually coming 48th in the overall General Classification at the end of the race.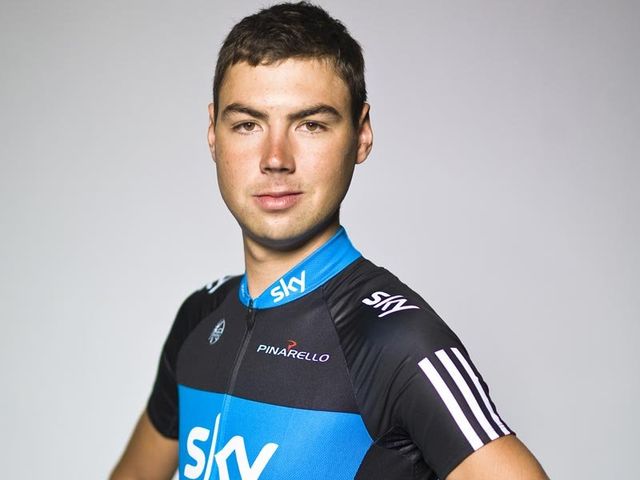 John-Lee Augustyn
In 2010, Augustyn announced that he would be joining Team Sky. However, since a crash in 2007, he had been experiencing problems with his hip; further investigation revealed avascular necrosis, a condition in which the bone from which the hip joint is formed crumbles. He underwent an operation to fit an implant, designed to replace the damaged bone and protect the rest, in 2011 and joined ProContinental team Utensilord-Named in order to be able to compete in less strenuous competitions than those the ProTour Sky race. Unfortunately, it soon became apparent that the implant was not able to withstand the pressures a professional cyclist placed upon it, and in May 2012 Augustyn was forced to take "an indefinite hiatus" from the sport.
Sergei Sukhoruchenkov
, born in the USSR on this day in 1956, won the Peace Race in 1979 and 1984 and the Vuelta Ciclista de Chile in 1990. In 1980 he won his most prestigious victory - the Road Race at the Olympic Games in Moscow. Sukhoruchenkov is the father of Olga Zabelinskaya, the rider who won bronze in the Road Race and Individual Time Trial at the 2012 Olympics in London.
Jan van Eijden
, born in Bad Neuenahr-Ahrweiler, West Germany on this day in 1976, won three World Championships and four National Championships during his competitive career, which lasted between 1994 and 2006. When he retired, be became a coach for the Team GB Track Team
David Le Grys
, who was born in Harlow on this day in 1955, represented Great Britain at numerous Olympic and Commonwealth Games during his amateur career, winning a silver medal for the Tandem Sprint at the Commonwealth Games in 1978. In 1982 he turned professional with the Geoffrey Butler team and won the kilo at the National Track Championships. Le Grys retired in 1987 but remained a part of the cycling world as a very successful coach, including five years as British Cycling's National Track Team coach. Later, he began to compete in Veteran and Masters competition and soon began racking up greater victories than ever before - among them, he was World Masters Olympic Sprint Champion in 1997, 1999, 2000, 2002, 2003, 2004, 2005 and 2006; World Masters 500m TT Champion in 2005, 2006, 2007 and 2009; World Masters 750m TT Champion in 1999, 2000, 2001 and 2002; World Masters Sprint Champion in 1997, 2001 and 2002; European Masters 500m TT Champion and European Team Sprint Champion in 2008 and 2009; National Veteran Sprint Champion in 1997, 1998, 1999, 2000 and 2001; National Masters Sprint Champion in 2002, 2004 and 2005; National Masters 750m TT Champion in 2002 and 2003 and National Masters 500m TT Champion in 2005, 2006, 2007 and 2008. In 1986, Le Grys set a world cycling speed record at 202.78kph.
Other cyclists born on this day
: Eddie Alexander (Scotland, 1964); Raimo Honkanen (Finland, 1938); Víctor Lechuga (Guatemala, 1966); Herry Janto Setiawan (Indonesia, 1973); Francisco Huerta (Mexico, 1947); Abdul Razzaq Baloch (India, now Pakistan, 1936); Martin Liška (Yugoslavia, now Slovakia, 1976); Hichem Chabane (Algeria, 1988); Leigh Hobson (Canada, 1970).